The Data Protection Act (DPA) 2018 is an update to UK laws that include the European Unions General Data Protection Regulation (GDPR). Data Protection Act 2018 achieved Royal Assent on 23 May 2018
Directly applicable in EEA Member States on 25 May 2018, GDPR will remain in force in the UK post Brexit.
GDPR Protection Principles
The GDPR has seven protection principles that companies and organisations are obligated to fulfil to aid in the proper collection, use and protection of data. The GDPR protection principles are as follows:
Lawfulness, fairness & transparency
Purpose limitation
Data minimisation
Accuracy
Storage limitation
Integrity and confidentiality
Accountability
Put simply, companies must know what data they collect, why they collected it, where they collect it, where they store it, how they secure that data, have agreed who owns the data and takes responsibility for it and much more.
Individual rights under GDPR
In addition to the seven major protection principles, companies must support the seven GDPR Directives to provide the public control over their data.
Individuals have rights over their data and they are as follows:
Purpose – its clear why you need the data
Lawfulness, fairness and transparency – be clear, open, honest and fair about using personal data
Data Minimisation – data is minimal, adequate and limited to its purpose
Data Accuracy – data is correct and up to date
Storage Limitation – erase when you don't need it
Integrity and Confidentiality – you keep it safe and ensure you don't lose it
Accountability – you take responsibility and you can prove it
Metatec GDPR Compliance Manager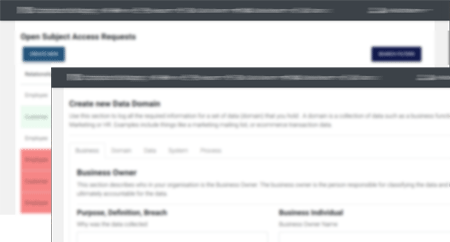 Metatec have recognised that the GDPR and ICO has placed a large expectation on a company and that companies must maintain adequate documentation, keeping many records of data, breaches, requests from the public excercising their rights and so on.
To reduce the burden, Metatec are very close to releasing their GDPR Data Portal software.
Our GDPR software will enable you to:
Keep a track of what data you have
Log requests from the public
Record any data breaches (no matter how small)
Workflows and reminders to keep you on schedule
Dashboard giving you a compliance summary
Task lists to ensure nothing is forgotten
Maintain evidence
All this will be available online via our Cloud Software as a Service (SaaS) package called Erudite, securely and mobile optimised for a fair monthly subscription fee.
To learn more, visit https://www.erudite.uk.com